Return
REF. 3402 - Segarra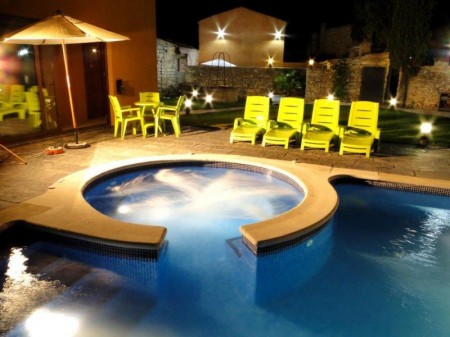 ref: 3402
14-27
Tipus:
Townhouseand Rural house
Location:
Lleida Segarra - Lleida - La Segarra
Discovering the plain of Lleida
RATES (14 of 27 people)
Weekend : From € 840 - according to occupation
Week: 2800 €
ACTIVITIES:
• Route Castles of Lleida: A journey to the past. Guided visits to castles Montsonis, Florejacs Montclar d'Urgell ...
• Cultural activities: Monastery of San Ramon (called the Escorial of Segarra), the Manreana Castle, city monument Cervera
• Cistercian Route: Monastery Vallbona Monastery of Poblet and Santes Creus
• family trips to the area near: Ivars, walks in Segarra ..
• golf nearby
• hiking trails in the area
• Fair Street Theater Tarrega (September)
• Guissona Roman Market (August)
Nice manor house dating from 1919, located in the center of Catalonia, in the region of Segarra. Is distributed on three floors:
Ground floor: On this floor, street level, there is a separate room with sofas and armchairs, large format TV, dining room and kitchen fully equipped kitchen (dishwasher, refrigerator, microwave, coffee capsules, barbecue and stove pellets.
On this same floor there is one room with double bed, one toilet and games room with table tennis, table football and playground.
First floor: On this there is a kitchen (fully equipped), dining room and living room with fireplace . There are also two rooms with two beds, one room three beds and one individual room in l, a living room with sofa bed for two people with terrace, two bathrooms with bath and service room with washing machine and iron.
Second floor: in this there is a spacious room with 8 single beds and one double bed, one bathroom with bath and terrace with outdoor furniture with shower.


The maximum capacity of the house is counting on the second floor of 27 people.
It has lift.
There is also a large car park, garden area with barbecue, wood available, Ideal for couples with Jacuzzi area (11 * 4 m), outdoor shower, two dressing rooms and two bathrooms.

ATL - 000027
Equipment
Barbecue, Heating, Kitchen, Jacuzzi / Spa / Sauna, Garden, Fireplace, Pool, Washing machine, Dishwasher, Home linen, Games room, TV, Terrace, Wifi i Celebrations Hall
Photos