Return
REF. 1116 - Poblet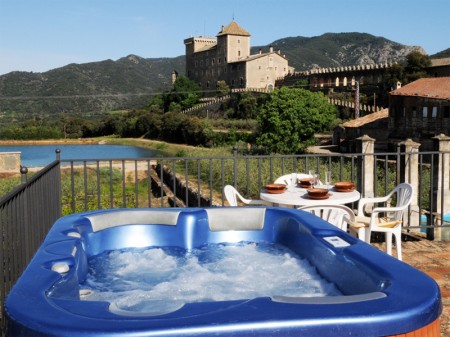 ref: 1116
6-6
Tipus:
Apartmentand Castle
Location:
Tarragona Conca de Barberà - Tarragona - Boscos de Poblet
Apartment Castle
PRICES (6 PEOPLE)
Weekend: 350 €
Week LS: 850 €
Week LS: 1225 €
a night during the week: 125 €
One night weekend: 200 €

ACTIVITIES:
• Enjoy the spectacular natural landscape that offers the same property (180 Ha of forest and vineyards)
• Route Cistercian monasteries of Santes Creus, Poblet and Vallbona
• Theme Park in oil Borges White: Les Garrigues is famous for its olive oil
• Route lime kilns
• Montblanc: Nice walled
• Visit the Cave of the Major Source of Espluga Francoli
• Mountain Biking
• Located near the Coast Golden Port Aventura to enjoy the beaches ...
Through access stairs to this apartment where there are three bedrooms, one double and two twin beds, a bathroom, and one living room atmosphere with fireplace and kitchen.
This accommodation is available a large outdoor area with swimming pool surrounded by columns with Roman type water comes from a source other smaller pool for children, a playground, an outdoor Jacuzzi (in running approximately Easter to October), with bathroom and dressing barbecue under a covered porch with summer kitchen. This area is shared with another accommodation for 2 people.
• Equipped with sheets and towels, TV, microwave, toaster, blender, coffee maker. Heating. Parabòl.lica antenna, DVD and Freeview. Firewood available for barbecue and the fireplace.
• The outdoor area and the porch equipped with garden furniture (chairs, tables and chairs) and summer kitchen porch you will find the necessary tools together a refrigerator and microwave.
• Open all year

PT - 000 020
Equipment
AACC, Barbecue, Heating, Kitchen, Jacuzzi / Spa / Sauna, Garden, Fireplace, Pool, Home linen, TV i Wifi
Photos